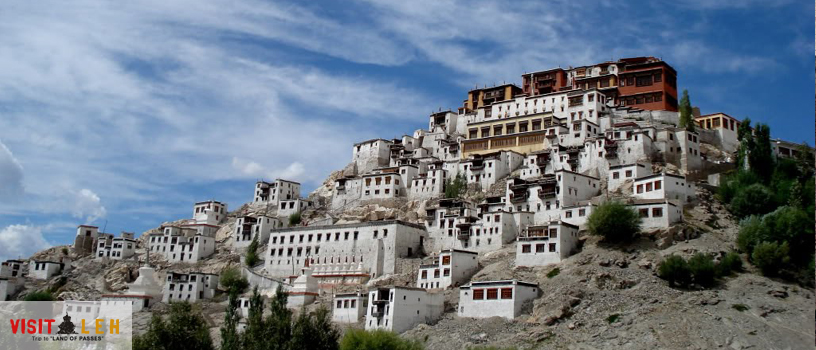 Ladakh is located 15 km to the south of Leh.It was founded in 17th century by the King Deldon Namgyal. A large number of monasteries, stupas and rock carvings can be seen on this road.One can easily reached Shey by trekking 4 km from Thickey Monastery and the path is recognized for having Ladakh's biggest chorten fields with hundreds of whitewashed shrines of varying sizes scattered across the desert landscape.
Shey Gompa
ladakh nearest airport is at Leh.The essential thing is that no persons can enter in this monastery without having special permission.Lama lives in this monastery and the inner workrooms are usually closed.There is a hotel for visitors which are surrounded by gardens opposite to the Shey palace.
The statue of Shakyamuni Buddha in the Shey gompa ladakh is 12 metres imagewhich wrap three floors of this monastery. On each side of the wall of Buddha contains Arhats eight on each wall. The walls on both the sides of Buddha display the 16, and the wall behind the statue has the images of the two chief disciples of the Buddha's which are Maudgalyayana and Sariputra . Buddha statue is painted with one image or the other. The massive Buddha as seen in the monastery is on three levels; the lowest level shows his huge feet and soles pointing upwards and a mural of Shambunath, the middle floor shows murals of the Buddha in different postures and the upper floor is darkened by the soot of the butter lamps that burn eternally at the altar.
The statue of the Buddha was distributed into parts at Zanstin in Leh. The copper were collected from Lingshet mines and Zanskar in order to make the statue. Plates were made by hammering on a rock.Firstly it was built in parts, after than it was transported to the palace for installation. About 5kg of gold were used for building this monastery.On the top of the floor of Shey monastery Leh, there are numerous beautiful wall paintings that are displayed. On the the lower floor the monastery contains a library with a large number of precisely preserved manuscripts.It is adorned with murals of Buddha figures in various mudras. There is shrine which is not so big about 400m from the Gompa palace which is developed by Sengge Namgyal.This shrine contains statue of Shakyamuni Buddha in sitting position. It is said that this statue and the other statue were crafted by a Nepalese sculptor whose name was Sanga Zargar Wanduk.Sengge's mother has brought him.Gyal Khatun has done tremendous work because he built the main statue. During the development of the monastery Nakbiri , Gamani Jal Shring and Paldana Shering Gyaso.